SOBS featured by Devitt Insurance
The 'Science Of Being Seen' (SOBS) has just got a comprehensive write-up on the Devitt motorcycling pages:
www.devittinsurance.com/guides/motorcycle-features/the-science-of-being-seen/
The Science Of Being Seen was part of the 'Biker Down' course in Kent since a pilot course run in early 2012. Here I am mid-presentation at Kent Fire & Rescue's 'Road Safety Experience' facility in Rochester in 2019, explaining the phenomenon of 'saccadic masking'
.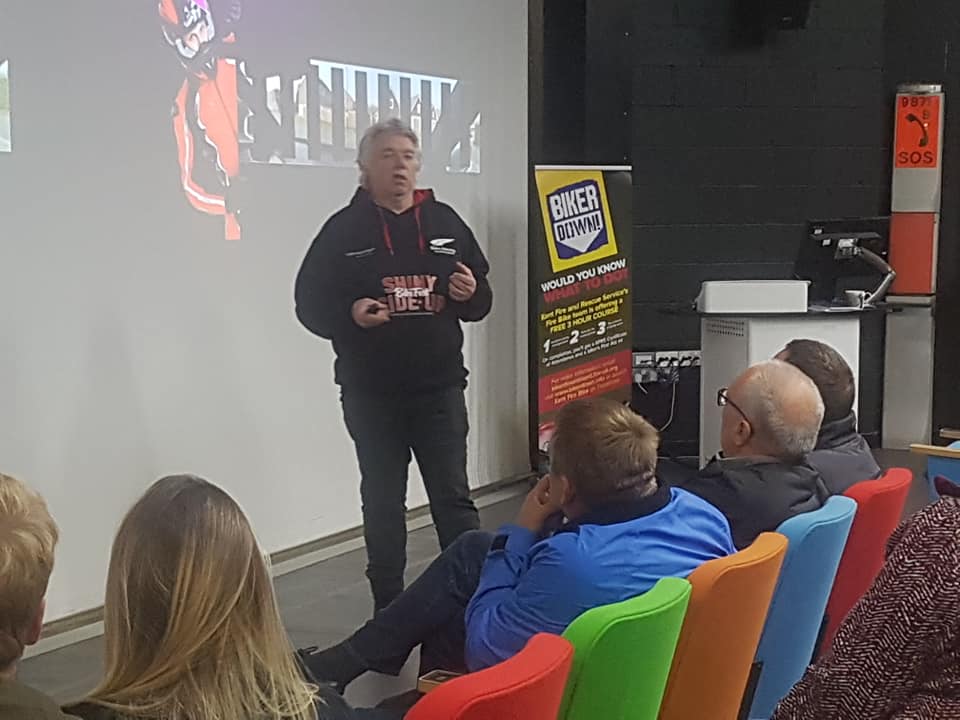 A little history…
After we won a Prince Michael of Kent International Road Safety Award at the end of 2012…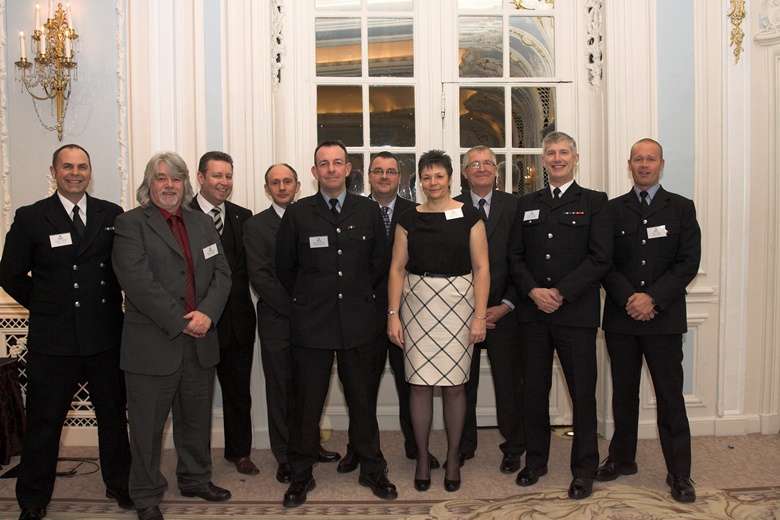 The Biker Down team from Kent Fire & Rescue Service at the Savoy November 2012
…Biker Down was picked up by many of the other Fire and Rescue Services in the UK, and most of them used a version of SOBS as the Module Three 'collision prevention' element.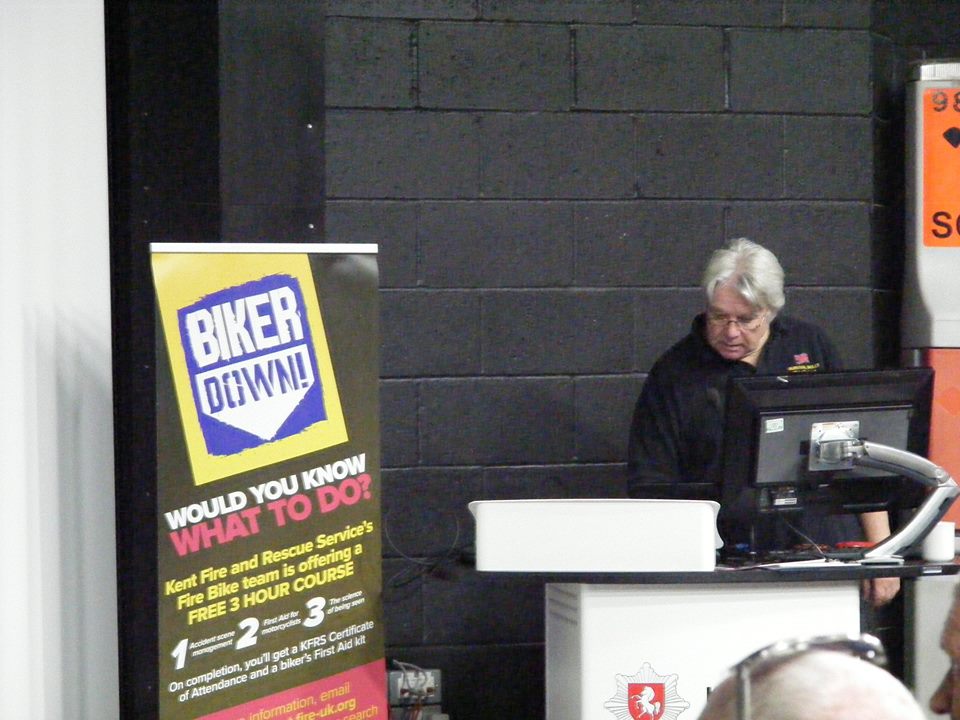 Setting up the laptop to run the presentation in 2019
Until COVID put everything on hold last March, I personally delivered the talk for 'Biker Down' in Kent for almost 10 years.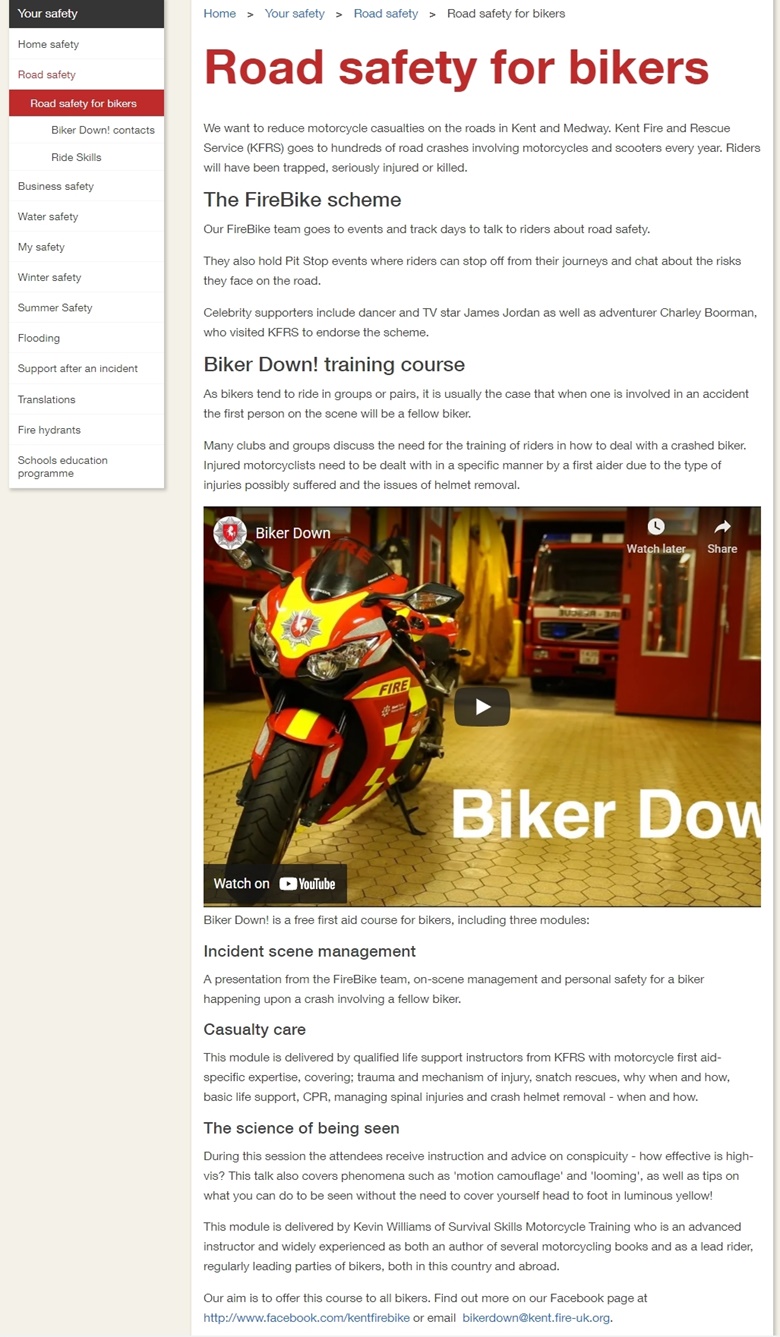 The KFRS website (June 2021) with SOBS as the third 'pro-active' module of Biker Down
In February in 2020, I was able to invite Brittany Morrow to see our course in action at Rochester in Kent whilst she was in the UK.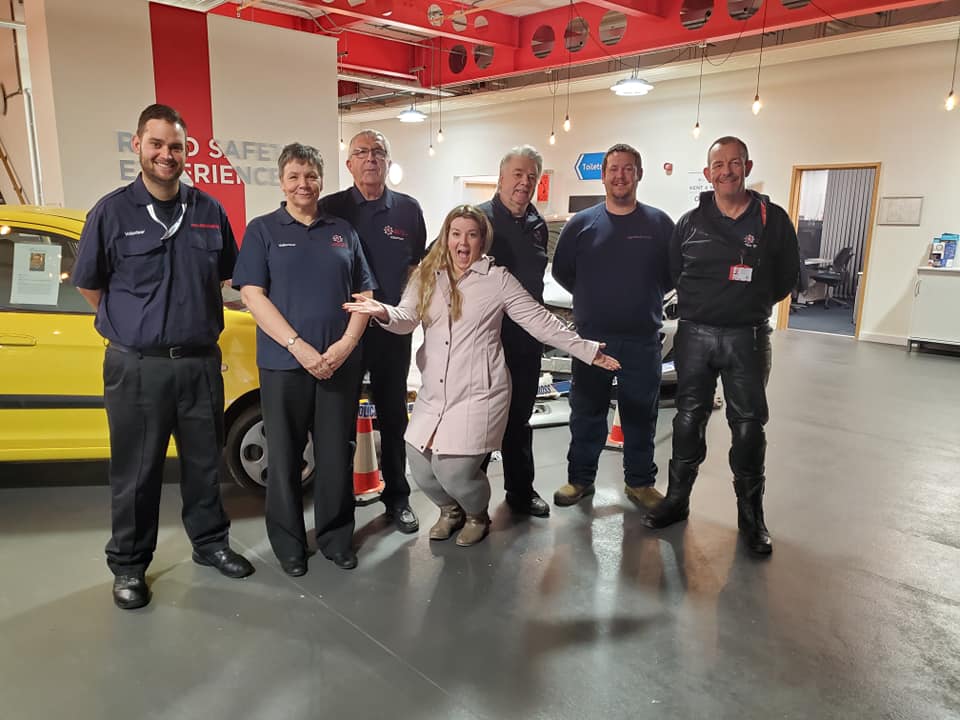 Brittany in a typical pose with the Biker Down team
Little did I know that was to be the final SOBS presentation I delivered for Biker Down Kent.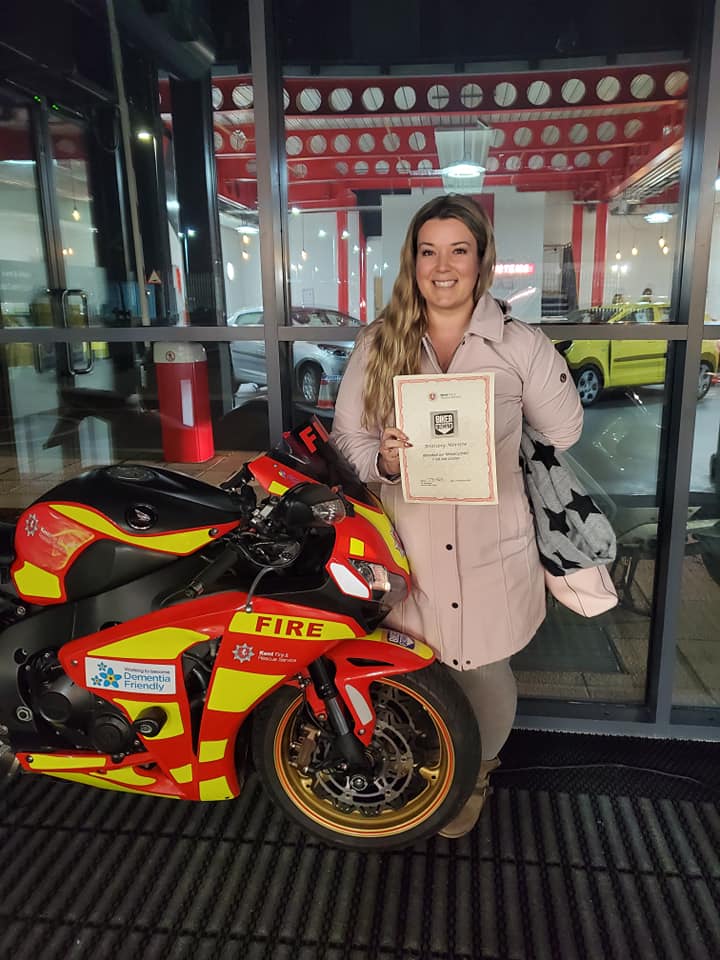 Brittany with her Biker Down certificate of attendance
I've run some special SOBS presentations as well, including one for MCN staff at Peterborough, and another for Honda UK at Bracknell.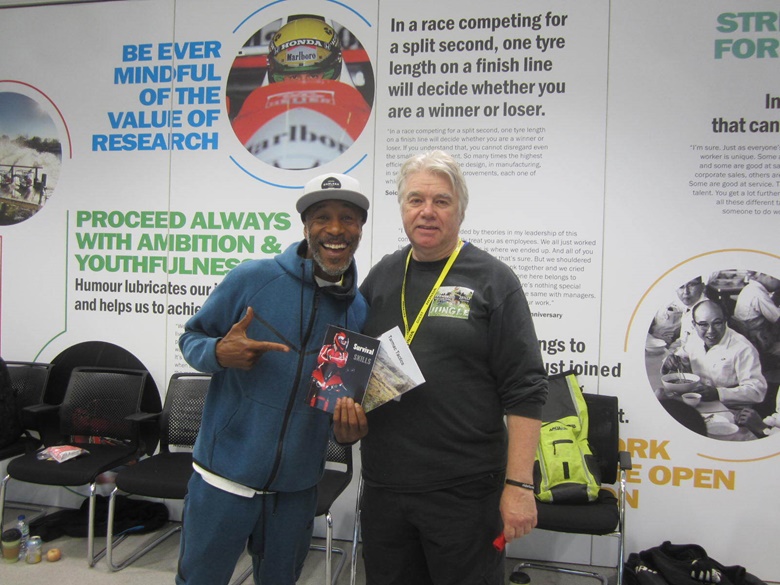 Danny John-Jules gets two of my books
The latter was attended by actor Danny John-Jules who was so impressed with my recommendation of pink as a hi-vis colour, he sent me some photos of him riding his own machine.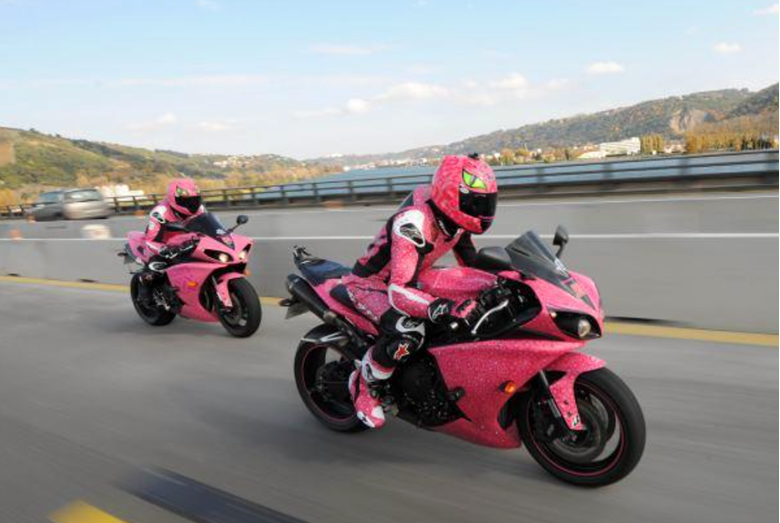 Those bikes are VERY pink!
SOBS has also been recognised internationally. I personally took SOBS to New Zealand for their month-long Shiny Side Up roadshows in 2018 and 2019.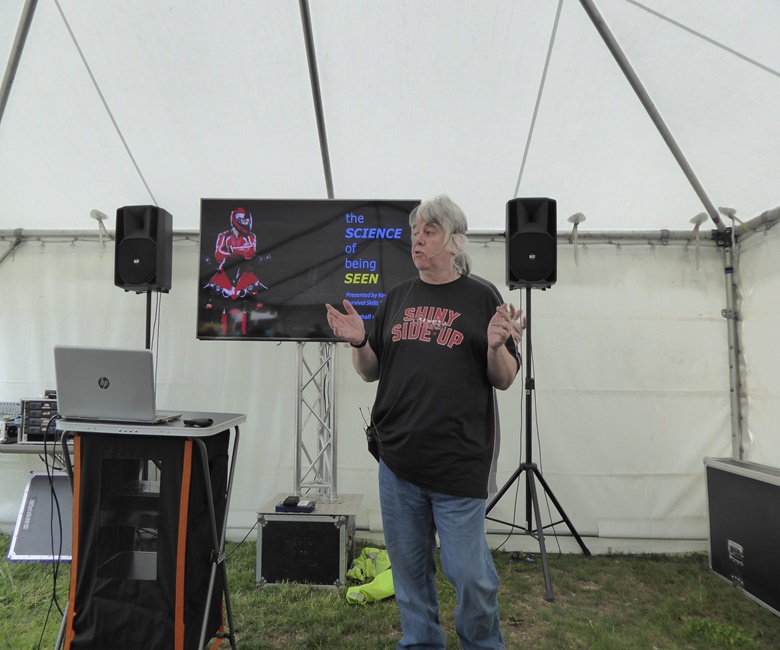 SOBS in the tent at SSU in 2018!
On my second trip in 2019, SOBS was featured in a New Zealand bike magazine, and during the tour I was interviewed for the New Zealand Newshub show.
In 2020, SOBS featured on the US REVVTalks series and it was one of the presentations for the RoadSafetyGB powered two wheeler event earlier this year (2021).
And I made a virtual return for the 2021 Online SSU event after the roadshow was curtailed by a lockdown in New Zealand.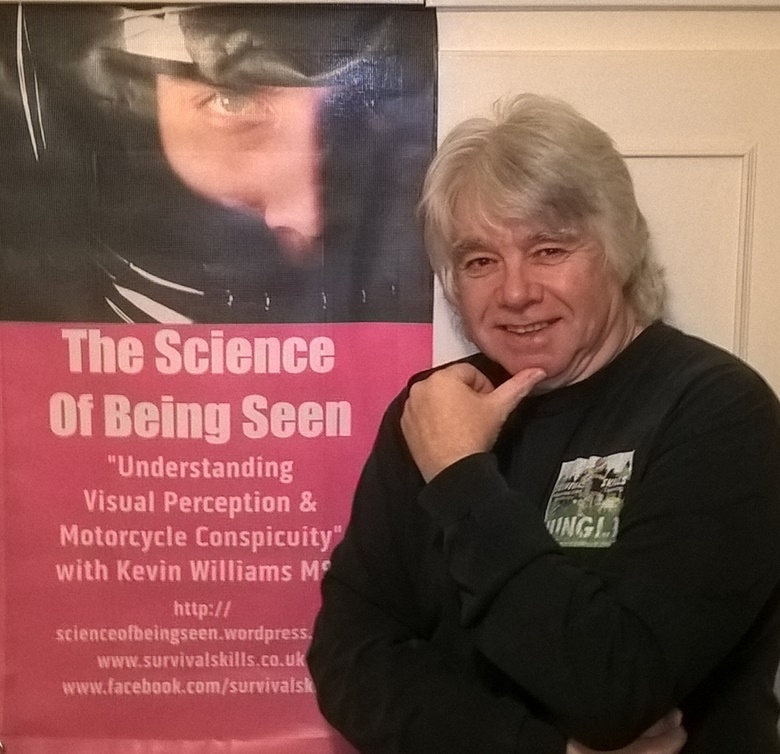 The present…
Earlier this year I was informed that all elements of Biker Down in Kent would be brought 'in-house' and subsequently, the associated fire services decided it was time for a fresh presentation.
And so, nearly a decade after I first put the pilot presentation together for firefighter Jim Sanderson at Kent, SOBS is no longer a part of Biker Down.
And next, the future…
And so it's time to relaunch Science Of Being Seen as a standalone project.
And the first step along that path is added by this great work by David Williams on the Devitt website.
I hope even more riders will become aware of the issues because SOBS provides vitally important information to ALL motorcyclists and drivers as it explains why motorcycles aren't seen at junctions.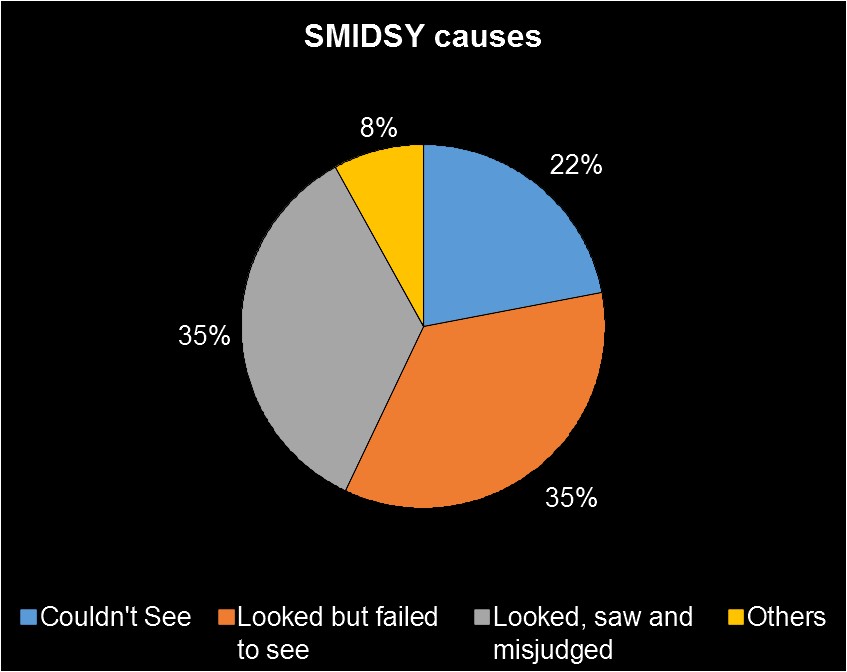 And to ensure that SOBS remains in rider consciousness, I'll be running a series of Science Of Being Seen LIVE ONLINE webcasts.
It's YOUR CHANCE to see the ORIGINAL and FULL presentation, but constantly UPDATED with the most recent research.
The presentation explores a range of problems:
:: 'looked but COULD NOT see' collisions, where for various reasons – including 'beam blindness' and the 'constant bearing issue' – it was physically impossible for the driver to see the motorcycle in the run up to the crash
:: 'looked but FAILED TO see' collisions, where the bike was in a place it could be seen but visual perception issues meant that the driver failed to spot the bike
:: 'looked, SAW AND FORGOT' collisions where short term visual memory and workload issues meant that the driver was likely to have seen the bike but mentally lost track of it
:: 'looked, SAW AND MISJUDGED speed and distance' collisions, which tend to happen on faster roads
We'll also take an objective look at the effectiveness or otherwise of the usual 'passive safety' conspicuity aids – hi-vis clothing and day-riding lights (DRLs), before suggesting some general rules to make them more effective.
And the talk concludes with an explanation of the concept of a 'Two to Tangle' collision where someone else makes the initial error but the motorcyclist fails to take evasive action, then offers some simple pro-active measures any rider can take to reduce the risks of being caught up in a SMIDY collision themselves.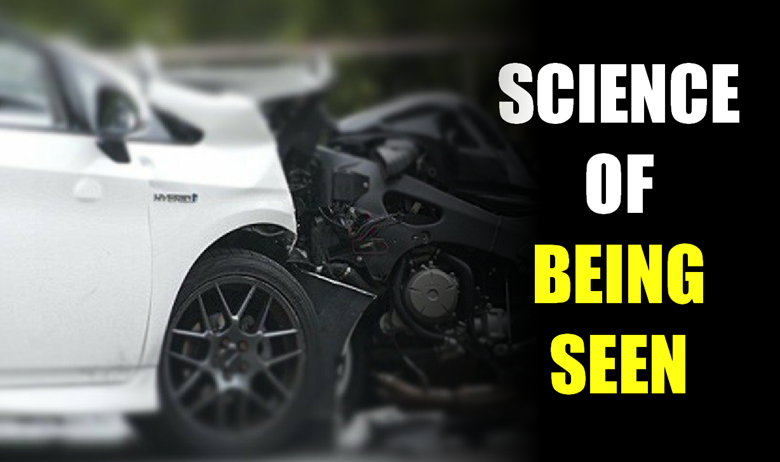 NEXT PRESENTATION: Wednesday 6 October @ 8 PM.
EVENT LINK
http://thq.fyi/se/3279523bdcc9
TICKETS ARE JUST £5. Attendance is limited to 30 people per event. YOUR ACCESS CODE WILL BE EMAILED TO YOU APPROXIMATELY 24 HOURS BEFORE THE EVENT.
Look out for future webcasts on the first Wednesday of alternate months.
I hope to see at least a few of you there!
"The Science Of Being Seen – understanding visual perception and motorcycle conspicuity" – a presentation from Kevin Williams of Survival Skills Rider Training.

Find out more about the SOBS project at https://scienceofbeingseen.wordpress.com
Support the SOBS project at www.ko-fi.com/survivalskills
Find out about Survival Skills post-test training courses at www.survivalskills.co.uk
Follow Survival Skills on Facebook at www.facebook.com/survivalskills